This page previews upcoming TV and Radio Programmes, mostly in Ireland and the UK. This is for information purposes only and does not imply recommendation unless clearly stated otherwise. Some of the material is available live or for download/podcast/streaming from the websites of the relevant broadcaster.

Is this page useful to you? Let me know using contact button on left.
Note: All times and dates are accurate at time of posting, but broadcasters can make changes so it's a good idea to double check in the daily papers/teletext etc. Watch also for regional variations, especially on BBC. The Irish channels, and EWTN can be watched online as through as through their various apps.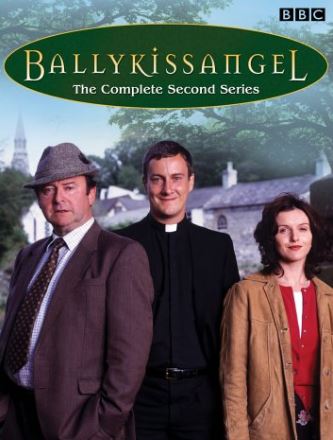 QUEST FOR SHAKESPEARE
EWTN Fri 24 March 7 pm
THE TESTING OF SHYLOCK - Shylock is put to test. Will he show mercy to his debtor or not? He must choose whether he should forgive and love his enemy, as well.

The Simpsons
Channel 4 Sat 25 March 11.25 am
Homer has a vision from God and decides to start his own religion, which doesn't go down well with the neighbours.

Songs of Praise
BBC 1 Sun 26 March 4:00 pm
Mothering Sunday. For Mothering Sunday, David Grant meets a mum who became a boxing coach to help youngsters in her community and a foster mum who took in three young asylum seekers from Afghanistan. The archbishop of York continues his special interviews for Lent, and there is music to lift the soul.
Ballykissangel
be3 Sun 26 March 5.00 pm
Someone to Watch Over Me - Drama series about an English priest working in a small Irish parish. Quigley acquires a housekeeper, much to his daughter Niamh's horror. He revels in being waited on by the comely Nora, until it becomes clear that she has more on her mind than doing the dusting. Down at the school, they acquire ten unruly new boys when another school closes down, bringing headaches for teacher Brendan Kearney. Ser. 2, Ep. 5 With Stephen Tompkinson, Dervla Kirwan, Tony Doyle, Peter Hanly, Sean Kearns, Tina Kellegher.
IN CONCERT: CHURCH SONATAS
EWTN Mon 27 March 6 am
Filmed at the Music and Beyond festival in Ottawa, Canada, famous pieces from Arcangelo Corelli and Wolfgang Amadeus Mozart are performed by the London Handel Players and the Chamber Players of Canada.

Call The Midwife
RTE 1 Mon 27 March 11:35 pm
As Easter approaches, the nuns prepare for celebrations, while Trixie is taken up with a new exercise class, Patsy awaits Delia's decision, and the group are shaken by the birth of a severely deformed baby.

JOY OF MUSIC
EWTN Mon (night) 27 March 4 am
LYON, FRANCE - Diane Bish travels to Lyon, France. Enjoy a tour of the city, along with spectacular musical performances.