This page previews upcoming TV and Radio Programmes, mostly in Ireland and the UK. This is for information purposes only and does not imply recommendation unless clearly stated otherwise. Some of the material is available live or for download/podcast/streaming from the websites of the relevant broadcaster.

Is this page useful to you? Let me know using contact button on left.
Note: All times and dates are accurate at time of posting, but broadcasters can make changes so it's a good idea to double check in the daily papers/teletext etc. Watch also for regional variations, especially on BBC. The Irish channels, and EWTN can be watched online as through as through their various apps.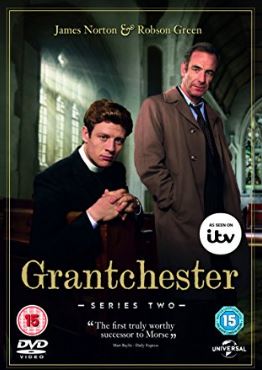 Crackpot Of The Empire Father Brown
RTE 1 Sat 22 April 10:00 am
"Crackpot Of The Empire, The" Father brown gets involved in the revenge of a crazy comedian. Episode 4

Songs of Praise
BBC 1 Sun 23 April 5:15 pm
RSPCA. David Grant visits Leybourne Animal Centre in Kent, run by the oldest welfare organisation in the world - the RSPCA - founded nearly 200 years ago by a Church of England vicar.

Grantchester
UTV Sun 23 April 9.00 pm
New run of the adult drama series set in the 1950s, adapted from the novels by James Runcie, featuring a crime solving cleric with relationship issues and baggage from the past. When Rev Sidney Chambers begins receiving sinister anonymous phone calls, he realises he is connected to a series of murders targeting respected figures in the community. Is Sidney next on the killer's list of victims? Ser. 3, Ep. 1 With James Norton, Robson Green, Morven Christie, Al Weaver, Tessa Peake-Jones, Kacey Ainsworth.
The Meaning Of Life, With Gay Byrne
RTE 1 Sun 23 April 10:35 pm
"John Sheahan" On his 77th birthday, last May, John Sheahan, the last man standing from The Dubliners legendary line-up, returned to the place that inspired his famous Marino Waltz and spoke to Gay Byrne about the events, people, faith and values that have shaped, or been shaped by, his life.

Call The Midwife
RTE 1 Mon 24 April 11:35 pm
With modern advances starting to change things for the better, even medical professionals like Dr Turner and Shelagh are forced to consider their own lifestyles. As they fight for better respiratory health for their patients, Timothy realises the risks his parents are running by continuing to smoke. Series 5 Episode 5.

JOY OF MUSIC
EWTN Mon (night) 24 April 4 am
SIGHTS AND SOUNDS PRAGUE - Host Diane Bish brings you a sparkling array of classical music in this musical tour of Prague.